Heh, sorry I hadn't post anything new yet. I was in the middle of finishing my
LJ
layout. Anyway I'm done now and I'm ready to go!
(
Greetings Love Birds!
Collapse
)
Next Chapter
Previous
(
History.
Collapse
)
Well I had to call in sick on my first two weeks of school. Good grief it'll be harder to get future jobs if a stomach virus hits me every single time. Well, looks like I made it to my first work day at Moonlight High School. My occupation is a gym teacher. Though it shall be martial arts taught and not gym only teachings. Students will still acquire the respected credit for the class.
Minutes before school started I explored the facility and laid out my lesson plains. Everything looks promising. Time to go to work.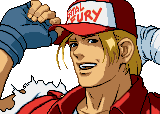 HALLWAY SCENE
TERRY: (I hope the kids don't think I'm a student myself being that I'm so young.)*Whistles*
RANDOM CHARACTER: Hey there Terry! Hope you do well on your first day.

TERRY: Yo! (Sheesh how does she know my name?? It's scary.)
CROWD: Hi Terry!!!!
TERRY: Hey there... (Maybe the people here are just overly friendly.)
(
The Terry Bogard Story.
Collapse
)