My Introduction



Previous



STAND UP!



This is a nightmare! Andy is dead! Mai hates my guts! I dunno if she even knows the news about Andy! In any case she would take it as hard as I am seeing as how she planned to mary him some day. I can't just sit by grieving! I have to find out what caused his death or I can't live with myself.

ROOFTOP SCENE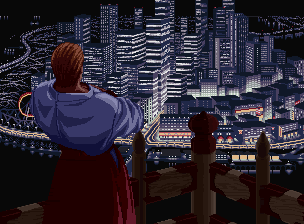 ANONYMOUS 1: Look at those fools down there, they are all cockroaches compared to me. What do you think Big?

ANONYMOUS 2: Too right sir. Terry Bogard's crew isn't with him will make a perfect killing.

ANONYMOUS 3: There is no where you can run Terry. Hmhmhm. I Krauser shall make you a shadow of yourself just like you did me.

ANONYMOUS 1: Billy! Is our surprise guest ready?

ANONYMOUS 4: No sir, he's not here.

ANONYMOUS 1: His loss then. Yamazaki will miss out on all of the fun. Heh, heh, heh, heh... HAHAHAHAHAHAHAHA!

SCHOOL YARD SCENE

KASUMI: Um... Mr. Terry why did you bring us all outside?

TERRY: Todays a nice summer day. So I figure it would be good to get some fresh air.

KASUMI: But it's embarrassing... what if somebody see's us?

TONY: Be silent women! Don't you ever question the great Terry Bogard! Terry sir I agree with you one-hundred and ten percent!

IMHOTEP: That's because you are a suck up!




TERRY: Okay, that's enough! 25 jumping jacks, BEGIN!

IMHOTEP, KASUMI, TONY: *All Doing Jumping Jacks*

TERRY: The minute class is over I will find out about my brother... I can't let my class see my emotions! >GASP< *Heart Starts Pounding* I'm feeling a strange power all of the sudden... It's heading straight for me! Who's ever coming is generating enough power to make my hair stand on end!

ANONYMOUS 1, 2, 3, 4: *Approaching The Front Door Of Moonlight High*



ANONYMOUS 1: REPPUKEN! *Blasts The School*

TERRY: An energy wave is headed straight for the school and Kasumi is right in it's path!

TERRY & KASUMI: *Terry Moves Kasumi Out The Way*

The blast destroys every single thing in it's path. Leaving nothing in site except a cloud of smoke. The impact of the wave causes a fire to break out. This sets off the alarm, and the students that lived through the blast all have to evacuate the building. They run out to find Terry Bogard in a stand-off with the 4 anonymous men. Almost the entire school counting Terry's students look on in shock.

ANONYMOUS 1: I've found you Terry Bogard!

TERRY: GEESE HOWARD!?! I THOUGHT I WOULD NEVER SEE YOU AGAIN! WHY GEESE? THEY WERE INNOCENT PEOPLE, WHY DID YOU HAVE TO KILL THEM!!??



ANONYMOUS 1 (NOW KNOWN AS GEESE HOWARD): Evening Terry Bogard it's been awhile you've met my friends before. Mr. Big, Wolfgang Krauser, and Billy Kane. Hmhmhm...



ANONYMOUS 2 (NOW KNOWN AS MR. BIG): WUZZUP BULL!



ANONYMOUS 3 (NOW KNOWN AS KRAUSER): Greetings Terry. Isn't this a surprise. All of your villains coming after you.



ANONYMOUS 4 (NOW KNOWN AS BILLY KANE): Hey Bogard! I've earned a new name over the years. Your about to find out why they call me BAD-ASS BILLY KANE!!!!

GEESE, MR. BIG, KRAUSER, BILLY: *Laughing*

TERRY: Krauser, it's never a pleasure! Billy, I see that scarf is still cutting off the oxygen flow to your brain! Mr. Big, last I heard Ryo kicked your ass! Geese, I hate you more then anything in the world, you killed my father you sick sadistic son of a bitch! So you guys have formed a little gang just to take me out eh? It figures since none of you could beat me 1-on-1.

GEESE HOWARD: Bogard! We have come all of this way to find you. We have been watching you, stalking you from the shadows when you thought some of us had died. But we lost you for a while, my agents couldn't pin point your location until now. We wanted to make sure you die, so we waited until you and your people, Andy, Joe Higashi, and Mai Shiranui, were all split up. Then we would strike! I've already hired a hit man to exterminate your bitch-ass brother Andy Bogard, and now we are finding you! Hmhmhm. Joe is too far out of range to be a threat and Mai all by herself can't help you. She's just a girl! Besides she detests you right now. Hmhmhm. You are ALONE Terry and we have come to finish you off!

TERRY: What!?!! Geese you sent somebody to kill Andy... I should of guessed it was you! Who was it!?! I'll smash them after I smash you!

GEESE HOWARD: I hate you boy! Enough talk time to die!

TONY: Let us help Terry!

TERRY: Huh?

IMHOTEP: Yeah he deserves an ass whuppin'!

KASUMI: Don't worry Mr. Terry! Will fight too!

TERRY: NO! ALL OF YOU STAY BACK NOW!
Oh no, I can't fight all four of them like this with innocent people involved.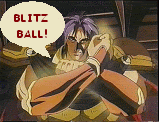 KRAUSER: Terry has a fanclub, how nice. Farewell all. Thank you and good night. BLITZ BALL!

Wolfgang Krauser unleashes a deadly energy ball attack aimed at a helpless Kasumi. Terry reacts quickly putting himself in danger.

TERRY: *Jumps In The Way Of Krauser's Blitz Ball To Prevent It From Killing Kasumi* UNH! Unuh...

KASUMI: AHHHH!!! OH, NO! TERRY! *Cries*

TONY: T-Terry are you ok? Get up! You have to... GET UP!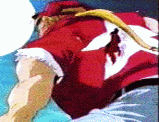 TERRY: Don't worry Tony, I'm just getting started. *Puts Up His Dukes* C'mon I ink dead yet!

GEESE HOWARD: Impressive Terry! You've recovered from Krausers Blitz Ball and saved the girl! But we are just getting warmed up!

To Be Continued...